Rappie Pie
Traditional Acadian dish made with grated potatoes chicken or seafoodand a richsavory sauce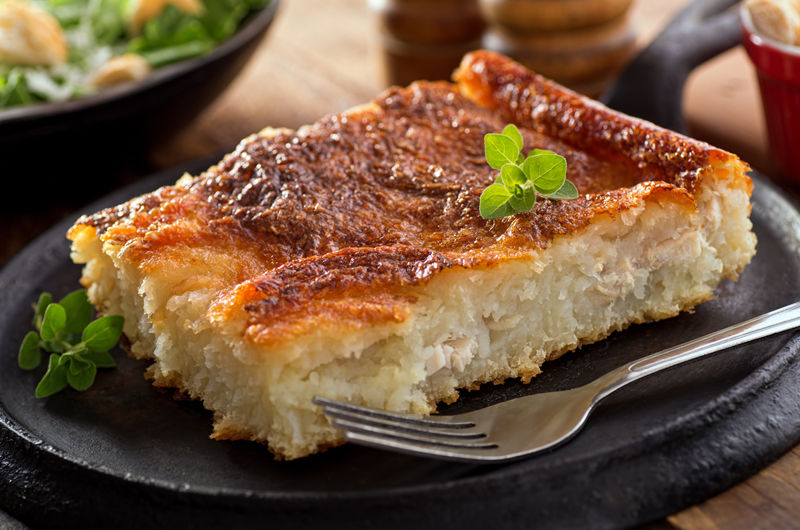 Method
Preheat oven to 400 degrees F (200 degrees C). Grease a 10x14x2-inch baking pan.
Heat margarine in a skillet over medium heat; stir in onion. Cook and stir until onion has softened and turned translucent, about 5 minutes. Reduce heat to low and continue to cook and stir until onion is very tender and dark brown, about 40 minutes more.
Bring chicken broth to a boil in a large pot; stir in chicken breasts, reduce heat, and simmer until chicken is no longer pink at the center, about 20 minutes. Remove from heat. Remove chicken breasts to a plate using a slotted spoon; reserve broth.
Juice potatoes with an electric juicer; place dry potato flesh into a bowl and discard juice. Stir salt and pepper into potatoes; stir in enough reserved broth to make the mixture the consistency of oatmeal. Set remaining broth aside.
Spread half of potato mixture evenly into the prepared pan. Lay cooked chicken breast evenly over potatoes; scatter caramelized onion evenly over chicken. Spread remaining potato mixture over onions and chicken to cover.
Bake in the preheated oven until golden brown, about 1 hour. Reheat chicken broth; pour over individual servings as desired.
Ingredients